Inflated Escape Rooms
New exciting Escape Rooms are available from Phantom Entertainment.
Work together as part of a group of up to 8 people to solve challenging and unique clues, puzzles, and codes. Escape before time runs out! Our mobile escape rooms are great for College Events, Corporate Events and Team Building, Birthday Parties, School Functions,Festivals, Holiday Parties, and Fundraisers.
The Mansion
There are mysteries to be solved in the Mansion. Work with your teammates to find the clues and get out of the mansion. Our escape rooms are not just 
mechanical puzzles but includes electronics and Video countdown timers. 6 to 8 people have 15 minutes to solve the mystery and esacpe the mansion. Required Space 15ft x 20ft X 17ftH plus 2 AC Outlets
The Fallout Bunker
After a possible nuclear attack, you are assembled in a 
Fallout Shelter. Soon you find out something is wrong and you need to get out.
5 or 6 peole try to find the clues that will help them get out in 15 minutes or less.
Required Space 17ft x 13ft x 11ftH plus 2 AC outlets
Area 51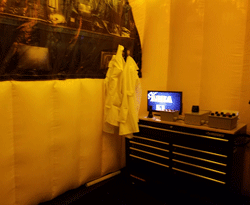 Strange Things always seem to be happening at Area 51.
Take a tour of this mysterious facility
but don't be left inside!
Area 51 Available April 1, 2018
We'll bring the amusement park to you.
We know how important your next event is to you. We have been providing entertainment for all types of celebrations including college events, birthday parties, bar/bat mitzvahs, graduation parties, Post prom parties, church events, Corporate parties and picnics, private parties and much more since 1979. We strive to provide the best entertainment for every event.