Portable Escape Rooms
Our portable escape rooms are designed for inside, low ceiling locations.
These escape rooms are the ideal solution for winter activities or rainout events.
Generally our escape rooms are priced to include two different rooms so more people can play at one time.
Games are 15 minutes or less.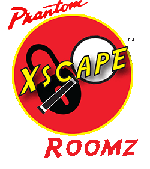 The Fallout Bunker
After a possible nuclear attack, you are assembled in a
Fallout Shelter. Soon you find out something is wrong and you need to get out.
5 or 6 peole try to find the clues that will help them get out in 15 minutes or less.
Required Space 10ft x 15ft plus 2 AC outlets
The Ski Lodge Pub
There are mysteries to be solved in the Ski Lodge Pub. Our escape rooms are not just
mechanical puzzles but includes electronics and Video countdown timers.
5 to 6 people have 15 minutes to solve the mystery and esacpe the lodge.
Required Space 10ft x 15ft plus 2 AC Outlets
Larger escape rooms are available that inflate if you have enough ceiling height.
Check out the inflated escape rooms here.
Coming Soon...Mummy Resurrection Escape & Area 51 Escape
We'll bring the amusement park to you.
We know how important your next event is to you. We have been providing entertainment for all types of celebrations including college events, birthday parties, bar/bat mitzvahs, graduation parties, Post prom parties, church events, Corporate parties and picnics, private parties and much more since 1979. We strive to provide the best entertainment for every event.